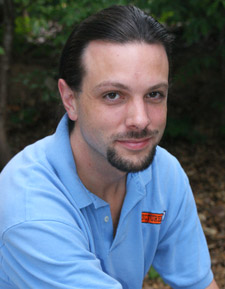 Jeffrey Barto, Technician
Jeffrey has been working on the internals of computers as a hobby for over twenty years and offering profession al support to others for nearly 15. Jeffrey's has worked as a networking contractor for dozens of publicly traded companies over the past and had his first full time senior networking position at an international Fortune 500 company's manufacturing plant. Jeffrey has worked for large and small companies in a variety of settings bringing a range of experience to the table with him.
While most of Jeffrey's knowledge on computers and servers is self-taught from experience he has also had a fair amount of education in the field as well. Jeffrey went to college at the Citadel as Physics major for most of his time there before switching to Computer Science at the end of his junior year. Jeffrey has been through CISCO CCNA and Microsoft MCSE training, as well as specific Server Maintenance and Disaster recovery course at Microsoft headquarters in Charlotte. Jeffrey has been educated by multiple hardware and software vendors in the last dozen years earning him over 20 certifications.
Jeffrey's our Swiss Army knife tech with the ability to wade into all most all computer problems and bring experience to bear on the problem in efforts to resolve customer issues quickly. His main focus over the last ten years has been servers and the back end networking. Jeffrey can often be known to be talking of the virtues of multiple backups, robust, and redundant systems in order to protect customer data as well as reduce downtime.
Jeffrey is accustomed to the fast paced environment of today's business in the field of technology support, he prides himself on being adaptive to new technology and business systems. He can help any business find new ways to secure their data safety, improve their business productivity, and implement new ideas based on old methods of computing to make their business run better.